ALL Shooters & Spectators need to bring a Valid ID with them to the range.
ALL Minors Must Be Accompanied by a PARENT or LEGAL GUARDIAN.
We do NOT allow Steel Core and Steel or Aluminum Case ammo on our ranges.
Pistol Range (under 21 years of age)
Rifle Range (under 21 years of age)
Shotgun Range (under 21 years of age)
The following people are NOT allowed to sign a waiver for a Minor:
Friends
Grandparents
Siblings (brother or sister)
Aunts, Uncles
Parents of other participating Minors
Pistol Range Fees Per Hour:
$20.00 per adult shooter
$15.00 for military and law enforcement (active or reserve) FREE for Military or Law Enforcement in uniform
$10.00 per Child 9-13 years of age (with a paid adult).
Free per Child 8 or younger (with a paid adult).
Pistol Rentals
$10.00 Daily fee
$20.00 Daily fee - Premium Rentals (Colt Anaconda)
$5.00 if Switching out Firearms
*Premium Rentals Available, Extra Fees May Apply.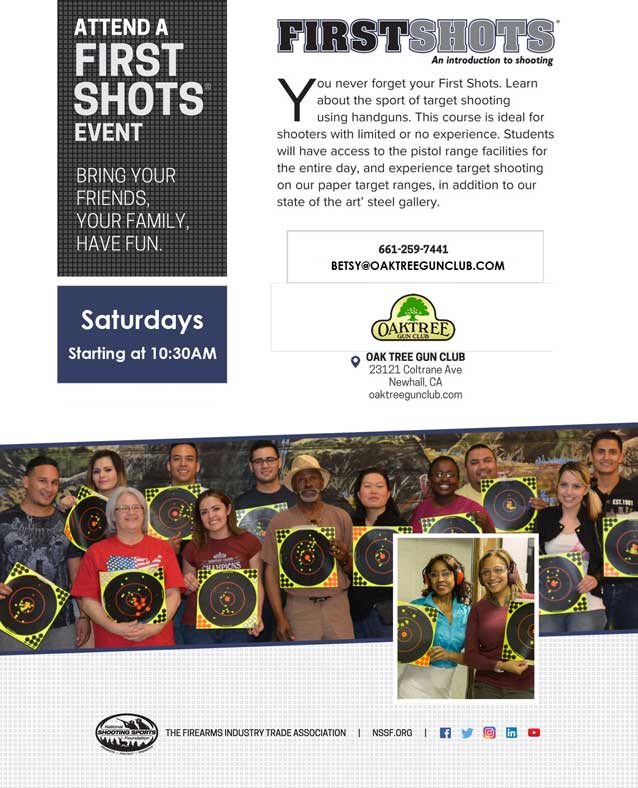 Annual Memberships
$500.00 for 12-month membership as of May 1st, 2023 ($250.00 to add a family member), which includes:
Unlimited use of paper bays 2 and 3.
Unlimited use of steel gallery and speed plates
Unlimited use of the rifle range.
Unlimited use of all rental handguns, shotguns, rifles and bows.
Discounted target rates on; skeet, trap, sporting clays, 5-stand and
Half Price Range Fees at Archery.
Members receive 1 free firearms transfer per year (incoming or outgoing), $125.00 value.**
Access to "Members Only" events
Members receive a discount on food in the restaurant
Members also receive a 10% discount off of Oak Tree's signature brand ammo.
Members are guaranteed a fast check-in without the hassle of filling out daily waiver forms.
**Memberships which were purchased during "PROMOTIONAL SALES" (IE: 2 FOR 1 or 1/2 PRICE) and whose cards are labeled "PROMO" will NOT receive the 1 free firearms transfer per year.